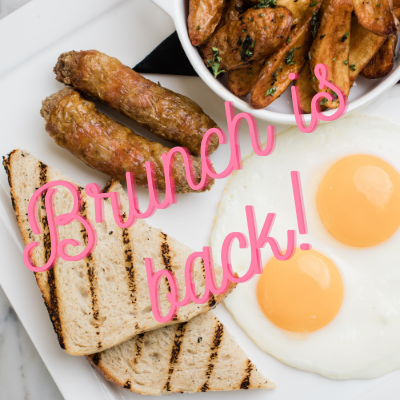 Brunch at HEW Parlor & Chophouse
Date
Saturday, February 20 - Sunday, December 26
Time
8:00 am - 1:00 pm
Tickets Available
Venue
HEW Parlor & Chophouse
453 Edgewater Drive
Dunedin, FL 34698
Event Information
Enjoy a wide range of breakfast, brunch & lunch dishes on Saturdays & Sundays!
$5.00 drink specials too!
Breakfast Platters
Served with two eggs: cooked your way, wheatberry toast, and choice of side
Country Fried Steak Black Pepper Cream Gravy
Petit Filet Mignon Hollandaise 26
Grilled Smoked Kielbasa Caramelized Onions
Roasted Butternut Squash Steak Cashew Gravy 12
SIDES & ADD ONS
Tater Tots O'Brien, Slab Bacon, Black Pepper Cheddar Grits, Pork Sausage Links, Fresh Fruit Cup Turkey Sausage Patties
French Breakfast Baguette, Boiled Egg, Cheese & Fruit
The Daddy-O Signature Breakfast
3 Eggs: Cooked Your Way, Choice of Slab Bacon, Turkey Sausage Patties, or Pork Sausage Links, 2 Buttermilk Biscuits & Gravy, and Choice of Side
Brunch Plates
Chicken n' Waffles Belgian Waffle, Buttermilk Breaded Chicken Thigh, Pimento Cheese, Caramelized Onion Cream Gravy, Sunny Side Egg
HEW Chophouse Omelette Shaved Ribeye, Fontina Cheese, Roasted Peppers, Crispy Onions Wheatberry French Toast Whipped Mascarpone, Wild Berry Jam, Maple Syrup
Lunch
Salads
Fenway House Field Greens, Baby Heirloom Tomatoes, Cucumber, Boiled Egg, Champagne-Lentil Vinaigrette
HEW Caesar Artisan Romaine, Shaved Parmesan, Herbed Ciabatta Croutons, Garlic-Lemon-Anchovy Vinaigrette
ADD ON: Grilled Shrimp or Grilled Chicken Breast
Handhelds
Served with Parmesan Truffle French Fries
Seasonal Burger Pumpkin Apple Butter, White Cheddar, Slab Bacon, Bread & Butter Pickles
Classic Burger Cheddar, White American, or Swiss Cheese, L.T.O.P.
Edamame Falafel Burger Dill-Fennel-Cucumber Yogurt, Pickled Red Onions, Arugula