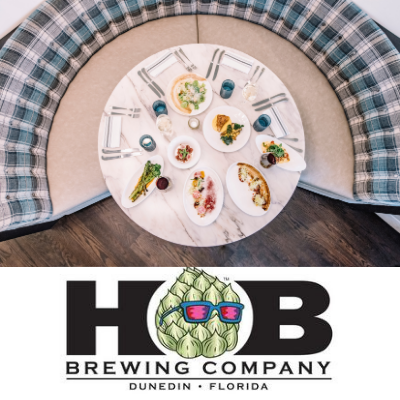 HOB Brewing Co. Dinner
Date
Thursday, June 24
Time
6:00 PM - 8:00 PM
Price
55
Tickets Available
50
Venue
Fenway Hotel, Caladesi Ballroom
453 Edgewater Drive
Dunedin, FL 34698
Event Information
Join us for a fabulous night of HOB brews and HEW bites!
If you wish to be seated with someone who is purchasing ticket(s) separately, please indicate their name(s) in the notes field. Once you purchase your ticket, you should receive a confirmation email. There is not a physical ticket to print; we will have a list of all guests at the registration desk!
Parking: please note we are a valet-only property and it is always complimentary when dining or joining us for an event!
Menu:
BBQ Chicken Wing Lollipop, Blood Orange BBQ
Peaches in Apricot Hefeweizen
Smoked Polish Sausage, Giardiniera
Queen of Smoke Grazer
Pork Belly, Grain Mustard Spaetzle, Honey Pickled Apple
Corvo Piante APA
Smoked Brisket Hot Brown, Heirloom Tomato, Neuske Bacon, Cheddar Mornay
Causeway Daze IPA
Key Lime Meringue "Pie"
Lime in the Coconut Blonde Ale