A Dunedin Thanksgiving at Fenway Hotel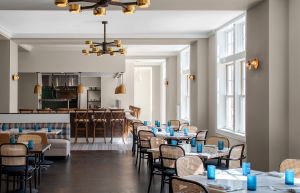 Whether you're a visitor or year-round resident of Dunedin, there's no reason to lift a finger this Thanksgiving.  Why not take your loved ones, including the in-laws and out-laws, to Fenway Hotel for a Turkey Day celebration at HEW Parlor & Chophouse?  Not only will it reduce the stress of orchestrating the family feast, but this holiday solution will focus you on what's truly important – talking and laughing while dodging those awkward questions about politics and why you haven't yet produced grandchildren.
A whole tribe or table for two?  No problem.  HEW's Thanksgiving Day concept scales easily to any party size.  The culinary team has worked overtime to plan the perfect seasonal menu featuring selections that will surely please the traditionalist as well as those with more adventurous palettes.
A few highlights from the Three Course Family-Style Menu:
Start your gastronomic journey with the Signature Fenway House Salad served with homemade Parker Rolls and whipped butter.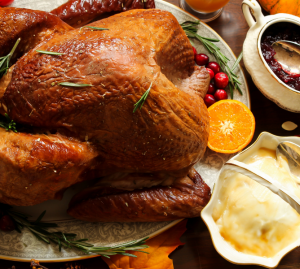 Choose from a mouthwatering array of entrees –
Traditional Roasted Turkey Breast with Pan Gravy – check!
Roasted Pork Loin "Ham" with Sorghum Glaze for a twist
For those who can't make up their minds, there's the "Turkey & Ham Combo"
Swim against the current with the Broiled Salmon with Garlic, Lemon & Herbs
Slow Cooked Prime Rib with Fortified Au Jus
Or, request the chophouse menu star, a 32 oz. Beef Prime Tomahawk Ribeye
Family-style sides won't disappoint with Buttermilk Mashed Potatoes, Roasted Corn with Spicy Miso Butter, Carrots with Harissa Maple Glaze, Brown Butter & Herbed Stuffing, and Cranberry Sauce with Ginger & Sage.
Those with a proclaimed "sweet tooth" can linger over a Pumpkin/Apple/Pecan Pies, assorted Cookies, Brownies and Cupcakes.
To seal the deal, live music will be featured in the Parlor.  For more info, visit Fenway's event portal HERE!
If you're already convinced, here are a few crucial deets: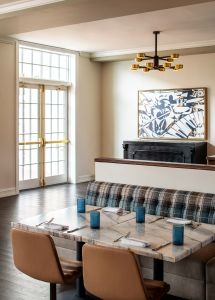 Thanksgiving Feast & Dessert Social
Hours: 12Noon-8:00pm, Thanksgiving Day, Thursday, November 22nd
Special pricing for children 13 years or younger
Attire: Come as you are.  You're family!
Location: HEW Parlor & Chophouse 453 Edgewater Drive, Dunedin, FL 34698 At Fenway Hotel – Complimentary Valet Parking
Reservations are recommended.
For parties of up to 4 guests, reservations can be made via OpenTable.
For parties of 5 or more, please call HEW Parlor & Chophouse at 727-683-5999.
Wishing everyone a very Happy Dunedin Thanksgiving Day from Fenway Hotel!