Fenway Hotel Voted Best Boutique Hotel in 2020 Best of St. Pete/Clearwater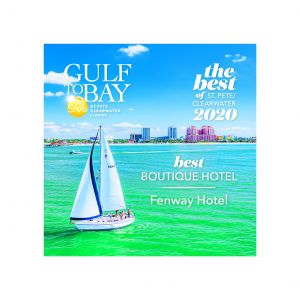 We won! Thousands of locals and visitors voted, and the results are in. Fenway Hotel has been voted the Best Boutique Hotel in the 2020 The Best of St. Pete/Clearwater Awards! Hosted by Visit St. Pete/Clearwater, the awards garnered over 145,000 votes and honored winners in 28 categories, from Best Hotel and Best Restaurant, to Best Dog Hangout and Best Brunch!
A huge thank you to everyone who took the time to vote for us. We are beyond honored to be a part of this community.
Come and see what everyone is talking about! Well appointed rooms & suites in a historic, Jazz Age building. Delicious dinners in HEW Parlor & Chophouse. Stunning sunsets, handcrafted cocktails and an all-new menu up at Hi-Fi Rooftop Bar. The perfect backdrop for your next gathering. All in the heart of Delightful Dunedin and overlooking St. Joseph Sound. We can't wait to see you.