Humming with the Past
The Dunedin History Museum seems the perfect community partner for a historic hotel, but the relationship between this very special venue and the Fenway Hotel goes much further than that.
The mission of the Dunedin History Museum is to enrich community pride by sharing Dunedin's legacy and heritage, to collect and preserve the historical artifacts and documents of Dunedin, and to foster quality intergenerational learning and historical exhibits. The Dunedin Museum maintains its collections and exhibits conforming to the American Alliance of Museum standards.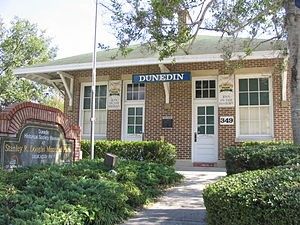 Located in downtown Dunedin and founded in 1970, the museum is housed in a former railroad depot built by the Atlantic Coast Line Railroad in 1924. The former rail line that serviced the depot, originally built by the Orange Belt Railway in 1888 and last used for a series of special excursion trips from nearby Tarpon Springs and back on March 8, 1987, was converted into a section of the Pinellas Trail in the 1990s.
Recently expanded, the museum has undergone a redesign of its exhibits, including interactive experiences for children.  With 2,000 artifacts, 2,500 photographs and a library of 200 volumes, this historic attraction conveys a great deal of information on Dunedin's past. It also houses permanent exhibits about Honeymoon Island, local life, the founding of Dunedin, the military presence in the town, Florida railroads, and the citrus industry.
Fenway Hotel guests will be treated to a special exhibit in the lobby specifically curated by the Dunedin History Museum.  Never static, this display will feature artifacts and documents that will rotate throughout the year, promising that no two visits to the Fenway will ever be the same.
Follow our blog and social channels as we'll share more on this feature and our relationship with the Dunedin History Museum!